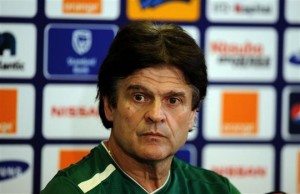 Togo will p)lay against Cameroon in the context of the third day of qualifying for the World Cup 2012. After a good AFCON, the Hawks hope to do well in the 2014 World Cup.
But the situation is complicated, and still very complicated within the group and between the Togolese Federation which changed the original list of Didier Six, the coach. "I have a list that has been changed. Many of my colleagues and friends who are in the football have asked me how could i stay so long in Togo. "
The names of Emmanuel Adebayor and Kossi Agassa were added, but eventually these players will not be on the field!
The Tottenham striker returned to London and Reims goalkeeper told Afrik Foot: "I am in Togo but I'm not going to Cameroon. I do not want to talk about the coach. And that's all. "
Didier Six confirmed that he did not want to align them against the Indomptable Lions!
It's hot and his situation seems increasingly untenable!