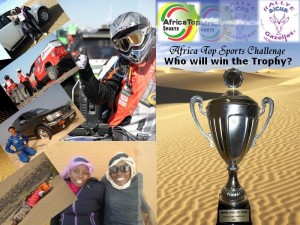 We previously informed you that Africa Sports Top is a partner of the 23th edition of the Rallye Aicha des Gazelles currently taking place in the desert of Morocco.
The first Pan-African and bilingual website of sports news awards for the first time in the history of the competition, the first African crew.
We offer you a foretaste of the image of the prestigious trophy. 16 African teams are involved in the crossing of the Moroccan desert. These countries include Morocco, Angola, Nigeria, Senegal, Congo, Libya and Gabon.
The Rallye Aicha des Gazelles is a female competition that takes place in the south of Morocco. The competition started on Saturday and will end on March 30.