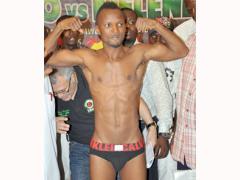 Former world boxing champion Joseph "King Kong" Agbeko will tonight fight Luis Melendez of Colombia for the IBO Bantamweight belt in Accra and the Ghanaian says he may beat his challenger to death if care is not taken.
Joseph Agbeko, born March 22, 1980 in Accra, Ghana is a Ghanaian professional boxer.
King Kong has explained that although he is not underestimating his Colombian challenger, he is in perfect shape and form to win the match.
"I am not promising a knock-out but if the chance comes I would take advantage of it and knock him off."
This fight is very important to me because I am fighting my last Bantamweight fight in Accra and in the last 20 years, this is the first time we are hosting a world title fight in Ghana.
The Ghanaian boxer called on his fans to move to the Accra Sports Stadium to watch the fight tonight and that he would be fighting in honor of the wife of his trainer, Asare Ofori.
"My trainer (Asare Ofori) lost his wife early last week when we were seriously training and it affected all of us psychologically; yet he did not abandon me.
"He sacrificed everything to help me win this fight and I must win to make him proud".
"I must win to honor the memory of his wife, I must win to make Ghana proud, I must win to move my career forward," Agbeko stated.