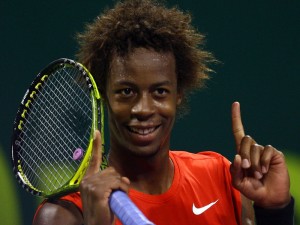 Gael Monfils will receive a wild card to play in the tournament in Monte Carlo. The competition runs from 13 to April 21, 2013.
The Guadeloupean was invited in the big board of the tournament in Monaco. The tennis player whose mother is from Martinique has fallen to 99th place in the world ranking this week.
The Caribbean had not the good ranking to directly integrate the final table.
The French, who declared forfeit through injury last year, has not played since mid-February and the tournament in Marseille. He is currently training at Roland Garros with Eric Winogradsky. His return is scheduled for April 8 at Houston on clay, a week before Monte Carlo.
The world No.1 Novak Djokovic, the defending champion Rafael Nadal and the britain man Andy Murray will bring the table in Monte Carlo where eight players in the Top 10 are announced, including the French Jo-Wilfried Tsonga and Richard Gasquet.
The absent are, the Argentine champion Juan Martin Del Potro and Federer, world No.2, who has chosen, as in 2012, not to enter in this tournament.