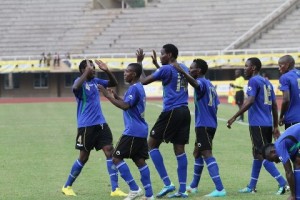 The World Cup dreams are getting far from Morocco. The Atlas Lions have heavily tilted in Tanzania on Sunday by 3 goals to 1. Blame to a feverish defensive and an attack with lack of confidence.
In the first half, the men of Rachid Taoussi have the ball but the last act is lacking. Abourazzouk missed the easiest opportunities. Goalless game at the break (0-0). On resumption, the Atlas Lions are unrecognizable. The defense takes water and the Taifa Stars have shed it with a joy at heart. Thomas Ulimwengu took advantage of a poorly cleared ball from a corner to open the scoring (61 ').
Then comes the festival of Samatta Ali. The miracleous of the Almighty Mazembe generates a doubled in the 67th and 80th minutes. Morocco is not coming back and loses its nerve on the ground.
Gross errors and a red card for Shakiru leaving his partners to 10 for the last five minutes. Youssef El Arabi reduces the brand in the stoppage time. A goal that did not change almost anything to the trend.
The next days may be hectic for coach Rachid Taoussi.