We felt that he would make his apron for the failure of his team to the African Cup of Nations of football. Two defeats and a draw at t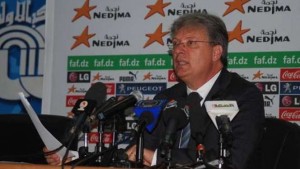 he end of the group stage, the coach of the under 20 Greens, Jean-Marc Nobilo made his apron at a press conference.
"I am in my 25th year in the field of training, and believe me; I've never experienced such a failure. I am even broken, not only because I failed in terms of results, but we also were not good in the game, "said Jean-Marc Nobilo, announcing that he resigns, without waiting for any possible interview with the leaders of the FAF.
The former coach of Havre was entitled to qualify the young Algerians to the semi-finals of the competition and at the same time for the World Cup of the discipline which will take place in Turkey.