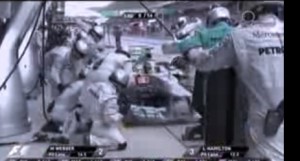 The British racer left the McLaren team for Mercedes last summer and is doing better than expected with the German team.
Hamilton's error came as he pulled in for his first tyre change and immediately steered the car towards the McLaren garage.
Hamilton's former colleagues politely moved out of his way and gestured that the undoubtedly red-faced driver had made a mistake.
McLaren saw the funny side of the blunder, tweeting from their official Twitter account: "Smiles in the garage after a well-worked double pitstop with an unexpected twist.
"Feel free to pop in and say 'hi' any time, @Lewis Hamilton!"
Hamilton finished third in the Malaysian Grand Prix and, fortunately, is only estimated to have lost a few seconds.
Watch the video below :
[youtube]http://www.youtube.com/watch?feature=player_embedded&v=CjS1LFQEn5w[/youtube]