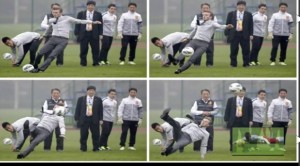 David Beckham took advantage of the international break since they are playing this weekend the playoffs for the 2014 World Cup. At 36, he made Qatar dream but more the English national team… he therefore had time to leave PSG – the club is really cool with him – and pay a visit to China where he came to take a ticket more and who negotiates maybe one last big check even if he intends to stay at PSG next year.
Short, Beckham visited the club, Wuhan Zall in Hubei Province.
And with a nice suit and his pants H & M as might be expected, he wanted to demonstrate.
Bad luck, he took a beautiful mess by pulling a free kick.
He was the first to laugh. Then he said: "I want people to understand that this is not a short term project. It is with great passion that we want to change the mindset of the league and encourage young people to contribute to making a championship as famous as the largest in the world (…) when you see the euphoria in this country when the team performs well, we see how important it is to the people. "
Let's check out the video
BB.[youtube]http://www.youtube.com/watch?feature=player_embedded&v=z7vxIVUhnFM[/youtube]