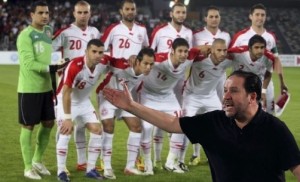 For his first official match on the bench of the Carthage Eagles, Nabil Maaloul comes out with a win.
The Tunisian beat on Saturday the Lones Stars 2-1, during the third day of the African zone qualifiers for the World Cup Brazil 2014. A victory gained in the second period.
If he is "satisfied with the performance," Nabil Maaloul noted, however, a psychological problem in his group "The failures in the first period affected the morale of the players who have given up. They have a problem of mental endurance. In return we made cloakroom, we happened to put pressure against our opponents which allowed us to make a difference and score our two goals. The group is potential and can go very far. For a first game, I'm satisfied with the performance. "
Next meeting to the second round of the playoffs for the 2014 World Cup for the Carthage Eagles, leaders of group B in the first week of June against the Lones Stars.