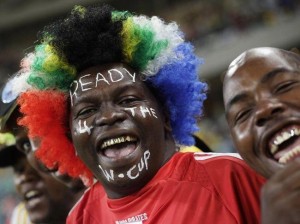 As expected, Africa saw a great weekend of football. They played all over the continent the third day of qualifying matches for the next World Cup in Brazil.
Here's a reminder of all the results of yesterday with the easy victories of Côte d'Ivoire, Burkina Faso,  and most difficult Cameroon and Tunisia.
Note the draw wrenched at the last minute by Nigeria, winner of the last Afcon, against Kenya.
Today, there will be new surprises. All results live on Africa Top Sports.Com and on the free mobile apps of the site.
The results of Saturday
Group I: Cameroon 2-1 Togo
Group E: Congo 1-0 Gabon
Group F: Nigeria 1-1 Kenya
Group F: Malawi 0-1 Namibia
Group C: Ivory Coast 3-0 Gambia
Group J: Senegal 1-1 Angola
Group E: Burkina Faso 4-0 Niger
Group B: Tunisia 2-1 Sierra Leone
Group A: South Africa 2-0 Central
Today Sunday:
Group C, 12.00: Tanzania – Morocco (Dar Es Salaam)
Group A, 13.00: Ethiopia – Botswana (Addis Ababa)
Group D at 13:00: Lesotho – Zambia (Maseru)
Group D at 13:00: Mozambique – Guinea (Maputo)
Group H at 13:30 Rwanda – Mali (Kigali)
Group I, 14.30: DR Congo – Libya (Kinshasa)
Group B, 16.00: Equatorial Guinea – Cape Verde (Malabo)
Group D, 16:00 Ghana – Sudan (Kumasi)
Group J, 16:00: Liberia – Uganda (Paynesville)
Tuesday, March 26
Group G at 17:00: Egypt – Zimbabwe (Alexandria)
Group H at 19:30: Algeria – Benin (Blida)