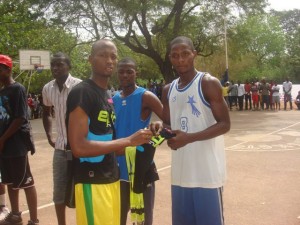 The dunk contest of Africa Top Sports-Moov basket challenge has kept all its promises as spectacular dunks as original. It is always a moment awaited by lovers of the orange ball. The show was with go.
Four participants struggled for title of best dunk, including, Yannick, Sinna, Tybo, Fofo. James White, who strived to succeed in a windmill dunk, probably too difficult wasted his time. Attempts of Tybo, Fofo and Sinna left the public thirsty.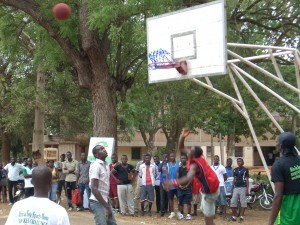 Fortunately, Yannick noted and knocked the basket with an impressive back dunk. It brings an originality key of this contest. Yannick will win this tunes battle through 360. The last 4 players have electrified the contest and made him his credentials thanks to some creative dunks.
Really, this sporting morning of magnitude cannot be done without the presence of the artists. Underground rappers and slammers have wowed the audience at half-time and end time of each shift. The public even had a battle session between Skal Prozh and No Size. Both artists are engaged in a clash that moves the crowd.