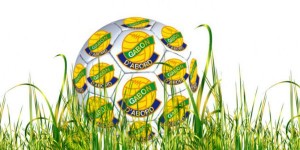 With regards to the presidential election, the sporting public of Gabon is preparing for a debate on Monday between the two candidates for the position of President of the FEGAFOOT (Federation Gabonese football) on the Gabonese television.
Pierre-Alain Mouguengui and Jean de Dieu Moukagni to answer questions from the journalists of the Gabonese Television while confronting their program.
According to the program, Moukagni, vice president of the outgoing Bureau, will focus on training (of youth, trainers and personals with the new standards framework) to culminate in the creation of a 4th and 5th divisions. He wants to allow Gabon to "organize the Afcon U17 in 2015, Afcon U20 in 2017 and Afcon 2017 through the Concept Football Global."
Mouguegui, former referee wants to "reorganize all functions of the headquarters of FEGAFOOT; manage with trust, transparency and fairness, relations with the state, support LINAF in its mission to professionalize the elite football; turn the 9 provincial Associations into provincial Heads capitals of the real centers of decentralization football activities, develop partnerships and outsource some sensitive functions. "
The election takes place this Wednesday, March 27.