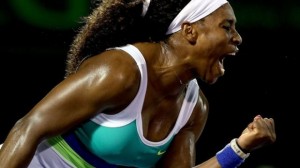 For the rendezvous with her fans she is ready to make any sacrifice.
The American star Serena Williams, to avoid traffic jams went to Miami Tournament by bike to play her game. The World tennis No. 1 recounts her adventure she finds exciting.
"People have told me that they were stuck in traffic for an hour. If I had taken the car, I would never get my game time. I then asked the hotel if they had a golf car, they did not and offered me a scooter. But I do not know how to ride it. They then told me they had a bike. I do not usually do, but I told myself that this time I was going to do! That was funny. So I refused to ride in a Roll to go biking. This is one of my best memories to come by bike to match. It was really cool, "said Serena Williams.