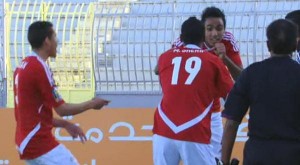 We know the first qualified for the final of the African Cup of less than 20 years.
Egypt won its ticket on Tuesday for the final round of the competition after a clear victory over Nigeria 2-0.
In a closed meeting with very low scoring opportunities, the difference was on set pieces. Twice the defender Mahmoud Kahraba was successful on free kicks. He therefore allows the junior Pharaohs with his double to reach the final of the competition.
The other semifinal is between Mali and Ghana will be decided after an extension. At the end of 90 minutes, and the Eaglets and the Black Satellites are still on 0-0.