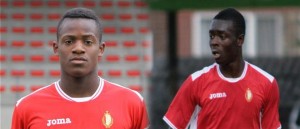 The nightlife with Yann Mvila, Wissam ben Yedder Mbaye Niang and others does not only exist in France.
The proof with Michy Batshuayi and Ibrahima Cissé, two young Belgian players of African descent guilty for having brought call girls in their hotel room 24 hours before a qualifying match for the Euro.
Monday, Johan Walem, coach of the Belgian under 20 selection returns to sent Cissé and Basthuayi back to their club for "disciplinary reasons." We know a bit more about why this Tuesday after revelations of the Belgian press the objections raised against the two players. Michy Batshuayi, Congolese origin and Ibrahima Cisse, Guinean father play together in Standard Liege. Both players have used call girls in their hotel room in Diegem (Golden Tulip) on the eve of the match against Cyprus (Euro qualifiers for the 2015), according to Het Laatste Nieuws.
Unacceptable behavior for Johan Walem. "I do not want to spill too much about the incident. Michy and Ibrahima have not complied with the code of conduct and were punished. The door of the Hopes is not permanently closed for them, but we could not let this go, "said the Belgian technician. Sanctions are planned.
This episode reminds us of the French Mvila, Niang, Ben Yedder, and Mavinga Griezmann guilty of a night out before a qualifying match.
The nightlife often received exemplary punishment; Mvila was suspended until 2014.