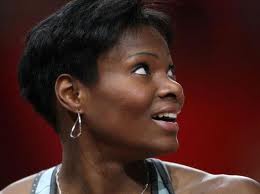 Muriel Hurtis-Houairi, born March 25, 1979 in Bondy, Seine-Saint-Denis is a track and field athlete originally from Guadeloupe (France), who is specialized in the 200 meters.
She came to prominence in 2002 when she won the 200 m gold medals at both the European Indoor Championships and the European Athletics Championships.
Her form faltered over the next few years and she failed to get past the quarter-final stage at the 2004 Olympic Games, although she won Olympic bronze in the relay 4 X 100 metres.
Career
Her first major success came at the 1998 IAAF World Junior Championships in Annecy, France, where she won the 200 m gold medal. She made her first senior global appearance at age 20 at the 1999 World Championships in Athletics and, after running a personal best of 22.31 seconds in the qualifiers, she finished fifth in the 200 m semi-finals. She ran with the women's 4×100 metres relay team and scored a silver medal alongside Sylviane Félix, Frédérique Bangué, and Odiah Sidibé. Hurtis made her Olympic debut the following year at the 2000 Summer Olympicsand again she reached the semi-finals, this time finishing in seventh place. Hurtis's first global final came at the 2001 IAAF World Indoor Championships, where she finished in fifth. She also helped the French relay team to the World silver medal at the 2001 World Championships in Athletics later that year.
European and World medals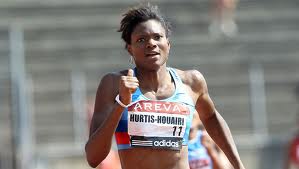 The 2002 season marked a significant career progression for Hurtis, beginning with the gold medal at the European Indoor Championships. She ran a 100 metres personal best that summer, recording a time of 10.96 seconds, making her the joint second-fastest French woman over the distance alongside Marie-José Pérec.[2] She became the 200 m European Champion at the2002 European Athletics Championships, winning in a season's best time of 22.43 seconds, and won a second gold with France as part of the 4×100 metres relay team. She closed the year with a fourth place in the 100 m at the 2002 IAAF Grand Prix Final and by winning the 200 m silver medal at the 2002 IAAF World Cup behind Debbie Ferguson.
She continued her strong form into 2003, recording a French indoor record of 22.49 seconds in the 200 m at the 2003 IAAF World Indoor Championships before going on to win the gold medal. At the 2003 World Championships in Athletics she finished in fourth place, but the original winner (Kelli White) was stripped of her medal for using banned substances and Hurtis was upgraded to the bronze medal. Further complicating the situation, Anastasiya Kapachinskaya, who was upgraded to the gold medal was banned six months later for steroid use.[3] Hurtis went on to win her second medal of the competition by winning the relay with Sylviane Félix, Christine Arron and Patricia Girard. At the inaugural 2003 IAAF World Athletics Final, she won the 200 m gold and took fifth in the 100 m.
Personal bests
6.14: in the 50 m on February 23, 2003 at Liévin
7.09: in the 60 m on February 23, 2003 at Liévin
10.96: in the 100 m on June 22, 2002 at Annecy
17.35: in the 150 m on September 22, 1999 in Nantes
22.31: in the 200 m on August 24, 1999 in Seville
52.94: in the 400 m on May 22, 2010 in Anthony
11.28: in the 100 m on February 4, 2002 in Tampere
22.49: in the 2000 m on March 14, 2003 in Birmingham
Here the videos : 
[youtube]http://www.dailymotion.com/video/x6q2ze_interview-sporzik-muriel-hurtis-hou_sport[/youtube]
[youtube]http://youtu.be/SvTy0aYulcA[/youtube]
[youtube]http://youtu.be/g69MxTsYwcM[/youtube]