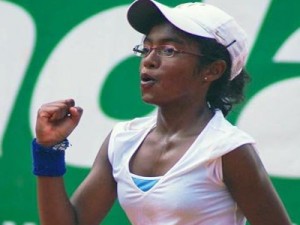 The Malagasy Andritoavina Ratsimandresy (boys) and Randy Randrianasoloson (girls) were highly preferment in the African junior tennis championships in Kenya by winning the titles in U14.
This is the second title for Randy Randrianasoloson in less than a year. The young Malagasy was crowned champion of the Big Island in her category.
"I saw my parents playing and I wanted to try. After I noticed that others were winning trophies. I also wanted to win and I started playing seriously, "she said.
"I had to fight constantly, on and off the court (note: during her studies). But at the end, when I won, I forgot about all the hard times before. "
"I highly motivated her with a harsh training to prepare her. She cried every day", said her coach Basile Ramanantoanina. "It is thanks to this that today she has a mental strength, able to overcome the worst situations in competition."
"In the end, there is satisfaction. I would not change it for anything in the world. If I had to do it again, I would not hesitate, "said the African champion.