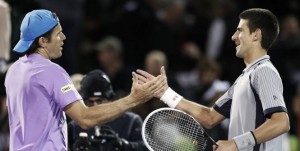 Novak Djokovic could not defend his title at the Masters 1000 in Miami. Double holder of the title, the World No. 1 has been pushed out by the German, Tommy Haas in two sets 6/2, 6/4.
Winner of the tournament in 2007, 2011 and 2012, Djokovic falls from the tower against the eldest in the top 50 in the ATP, 34
"We must congratulate Tommy, he made a great match and he was the best," slides the Serbian who has completely foiled with 36 unforced errors. "This is the worst game I've played in a long time. I do not feel good on the court, playing conditions were very different than in my previous matches, the ball bounced hardly and it was very cold. I have not found the solution to get back in the game. I would have had to do a lot less unforced errors to beat a quality player like Tommy. There are days when nothing smiles at you; it was one of those days. But the credit goes to him for having made me play so badly. '
Tommy Hass the World No. 18 puts an end to the unbeaten on the Floridian hard of Novak Djokovic (13 games). It is also the second defeat in the season for the No. 1 in the world after the one underwent against Juan Martin Del Potro.
The German will play the ticket to the semifinals against Gilles Simon, the French winner of Janko Tipsarevic (who defeated Kevin Anderson in the previous round), 5/7, 6/2, 6/2.