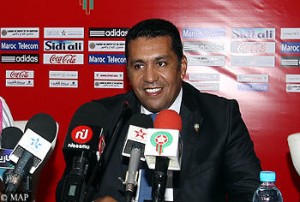 Morocco after a very bad Afcon chained a very bad match against Tanzania (3-1) during the third day of qualifying for the 2014 World Cup.
Africa Top Sports.com has reported that the coach Rachid Taoussi confided to Kifach.com. After attacking these players in a first step, the technician calmed the stain, and assured to be primarily responsible: "I do not blame luck or players, on the contrary I thank them because they gave the best of themselves, and I am primarily responsible".
We remember that he said: "We lost the game in its initial phase during which we were not able to score. I congratulate Tanzania, a good team. I knew then that we would suffer because they were going to put a lot of pressure. When they scored twice, my players lost their concentration and with the third, it was over. Defeat and all its ensuing consequences. "
He therefore wished to calm the stain…
"I too am disappointed like all Moroccans and as a responsible. During the last six months, we tried to create a new dynamic in the national team based on the seriousness, discipline and sense of responsibility, but it is clear that the application of these principles involves huge sacrifices.
"The key to success is the continuity with that group, whether under our direction or with other people, and we are going to continue on this path as the first positive point we have reached is that case of victory or defeat".
Still, the tension is palpable … the Moroccan Sports Minister, Mohamed Ouzzine said on his official Facebook page that the next general meeting of the Federation, scheduled for April would mark "the beginning of a new era, with many changes to expect .. "
Hey, have … does he prepare minds already?