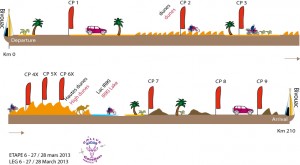 Thursday evening, gazelles can finally breathe. The sixth stage, marathon stage of 48 hours between Oulad Driss and Foum-Zuid (210km), was rather complicated for the majority of the crew.
Carole Montillet, crew 187, former French Ski champion, who won the rally, made an appeal to the mechanical assistance. She is not alone. The Nigerian and Congolese, the Gabonese, the Libyan, may recall this long sand hissing overnight and the gusts of wind.
The Chegaga Region… its sand, its hills, its Oued Draa and its storms! The organization played a nice round to the 150 crews in this 23th edition of the Rallye des Gazelles to finish the race in style. Even the press vehicle of Africa Top Sports struggled with the dunes and the wind, the enemy of those days…
Wade Syndiely for crew 188, still leading the Africa Top Sports challenge and her teammate Florence Pham, the important thing was to "identify and always keep well for its relief."
At the end of the first day, the best crews attacked the dunes. This Friday, in the program again and again sand.
Whatever the chosen route, the Gazelles crossed the Erg with more or less difficulty, with the hope of seeing the other Gazelles … but this time, the real.
Not far from Lake Iriqui, these are the nice Moroccans of the crew 197, Julia Le Borgne and Céline Vergin, 18th for the meantime and third in the Africa Top Sports challenge… "I spent four years in Cotonou, Benin. I'm a fan of your site. Does this give me points to win the Africa Top Sports challenge? "Asked Julia. The answer is "no." To win the Africa Top Sports challenge, you simply need complete at the top the 16 African teams … Nevertheless, Celine and Julia sent a smile dedicated to our internet users, before continuing their journey.
A road that leads them straight to the lake Iriqui… Lake Iriqui is dried for several years. The Gazelles can enjoy a voyage of more than 10 km on a smooth space and without reliefs…
The last relief, the last azimuths, the last postponements of cap and the finish line is looming. The finish line, the singer Chrys Mayne and her teammate, the Moroccan Eva Devico, crew 195, dreamt for several days.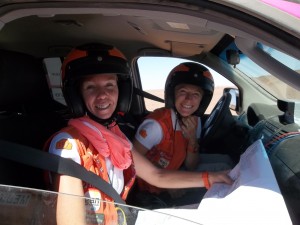 "We have struggled, we performed fire work, we want to arrive and have fan one last night before returning to camp," said Chrys Mayne.
The crew 195 for the moment ranks ninth overall and 2nd place in the Africa Top Sports Challenge.
This Saturday, the first winners of the Africa Top Sports challenge of the Rallye des Gazelles will be known to all at the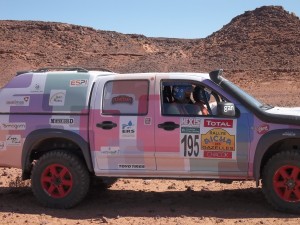 awards ceremony in Essaouira.
From our special correspondent in Morocco, Nicolas Négoce
Ranking of the Africa Top Sports Challenge after the sixth stage:
1. WADE Syndiely and Florence PHAM (188)
2. Eva Devic and Chris MAYN (195)
3. Le Borgne Julia and Celine VERGI (197
4. Sophie RAYNAL and GERALDINE ALLARD (224)
5. Benedicte Clarkson and JAMILA AIT AKK (176)
6. Abla BENSLIMANE and Dounia Bennani (227)
7. Oskavie MBITSI-BYSSH and Latifa BRIZIZ (202)
8. Carolyne GARRIGUE and Naima KABBAG (119)
9. ANNE ESTELLE AJAX and YVONNE ENWEMADU (206)
10. Winne Cadete and Zola Alexandra Diavita (200)
11. Anne-Sophie BERGEZ and Stella NZE (211)
12. Joy UWAGBOE and Ogechi ANUSIONWU (205)
13. Manal FAXELLE and HEDGE KANITA (165)
14. Cynthia Andree ETOH and Sonya LEGNONGO OBAGAYELE (203)
15. Salwa Dakhil and GHAZALA ELWERFALY (204)
16. Ludovina CORDEIRO and Filomena CHIMPOLO (201)