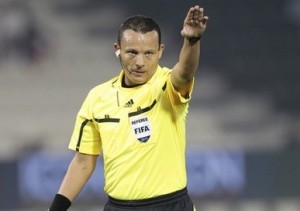 Seven referees African International participated at Casablanca (Morocco) from April 27 to 30, 2013, in a seminar on the sidelines of the next 2014 World Cup to be held in Brazil. According to the Federation of International Football Association (FIFA) this seminar that is organized for referees and assistant referees candidates for the 2014 World Cup in Brazil which was held in Zurich (Switzerland) in September 2012
The protection of players and the image of football fair play, coherence and consistency of decisions, the perception of the game (technical approach / tactical) and understanding of different football mentalities (knowledge of the teams) are among other points that will be discussed during this meeting.
List of invited African trios:
Haimoudi Djamel (referee) Algeria, Achik Redouane (assistant) Morocco, Etchiali Abdelhak (assistant) Algeria
Alliou Nil (referee) Cameroon, Menkouande Evarist (assistant) Cameroon, Edibe Peter (assistant) Nigeria
Daniel Bennett (referee), South Africa Range Marwa (assistant) Kenya, Siwela Zakhele Thusi (assistant) South Africa
Diatta Badara (referee) Senegal, Djibril Camara (assists) Senegal, Samba El Hadji Malick (assistant) Senegal
Noumandiez Doue Desire (referee) Côte d'Ivoire, Yeo Songuifolo (assistant) Côte d'Ivoire, Jean Claude Birumushahu (assistant) Burundi
Gassama Bakary Papa (referee) Gambia, Ogbamariam Angesom (assistant) Eritrea, Kabanda Félicien (assistant) Rwanda
Jeddidi Slim (referee) Tunisia Bechir Hassani (assistant) Tunisia Hmila Anouar (assistant) Tunisia.