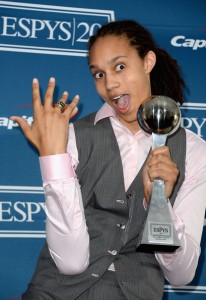 Brittney Griner is the new Queen of the Hardwood Floors as she dominated the College basketball World with a 2012 National NCAA title and the first perfect 40-0 season ever with Baylor University. One lucky team in the WNBA is sure hoping to get their shot at Brittney at the next draft. Whoever gets her might go undefeated for a very long time!
Brittney Yevette Griner was born on 18thOctober, 1990, she is an American women's college basketball player at Baylor University in Waco, Texas. In 2012, the three-time All-American was named the AP Player of the Year and the Most Outstanding Player of the Final Four. Standing 6'8" tall, Griner wears a men's US size 17 or 18 shoe and has an arm span of 86″.
It's true that Brittney didn't even start playing basketball until she attended Nimitz High School in Houston, Texas. She was 6 feet tall in her freshman year, but by the time she graduated, she was a 6'8 elite basketball star and every college in the state was trying to lure her to their school.
In 2009, Griner was named the nation's  high school women's basketball player by Rivals.com. Griner was selected to the 2009 McDonald's All-American basketball team. On March 20, 2012, Griner threw down a one-handed dunk against the Florida Gators, becoming just the second woman to dunk in the NCAA Women's Basketball Tournament.
Brittney bounced her way to Baylor and immediately she became a National threat taking Baylor to the Final in her freshman year. Here are some of her most amazing feats: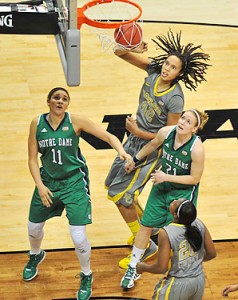 Recorded Baylor's First triple double ever – 34 pts 13 rebounds 11 blocks
*7th woman ever to officially record a dunk in a game
*2012 Final Four Most Outstanding Player
*Member of the US Olympic Basketball team
Brittney Griner has the potential to be one of the biggest legends in sports history. Her domination of the 2012 NCAA tournament is just a sneak preview into what will be a long career in dunks and domination in Women's Basketball.
[youtube]http://www.youtube.com/watch?v=wcXor2Hu7TQ[/youtube]
Read also:
http://en.africatopsports.com/2013/03/01/basketball-leedham-signing-up-in-air-with-gb/