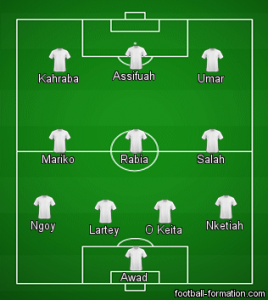 The 18th edition of the AFrican Cup Of Nations Under 20 years ended on Saturday with the coronation of Egypt.
CAF has released the eleventh-type of tournament.
The African champion counts four players.The goalkeeper Awad, the midfieldders Salah and Rabia and the striker Kahraba. The Black Satellites with Nketiah, Lartey and Assifuah.
Mali also has two players with the defender Keita and the mid Mariko.
Nigeria, bronze medalist did align a player: its scorer, Aminu Umar while Ngoy represented DR Congo in the eleven-type.