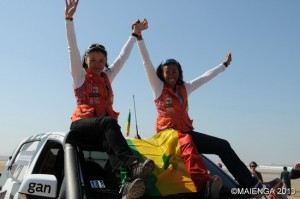 Here is the end of the 23th edition of the Rallye Aicha des Gazelles. A rally won by the Senegalese Sindiély Wade and Florence Pham, crew 188.
In this edition of the Rallye Aicha des Gazelles in Morocco, 150 crews from 20 nationalities were on the move. Crews in 4 × 4 Crossover, quads, buggies and RZR.
Before the final marathon, crews 160 (Elizabeth Jacinto and Valerie Dot) and 187 (Carole Montillet and Julie Verdaguer) occupied the first places overall in the Rallye des Gazelles. In the third place, Syndiely Wade …
on the 216 km ran between Thursday and Friday, the marathon race was down in southern Morocco to join the camp of Foum Zguid. The main difficulty of the journey: the crossing of the Chegaga dunes. Dunes that have caused a lot of trouble to crews 160 and 187. They called for mechanical assistance. Consequently: heavy penalties … They reached the bivouac at about 21 hours, without passing through the entire CP as scheduled.
But as the misfortune of some makes others happy, Syndiely Wade managed to climb on top of the podium.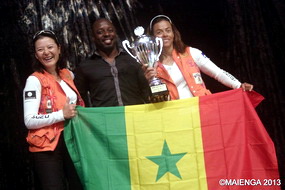 First overall, Syndiely Wade and Florence Pham also won the Africa Top Sports Challenge and Media Relay Isuzu Challenge:
"It was a great adventure, with many difficulties, not mild weather, but we gave everything, and the result is satisfactory, told Syndiely at the ceremony of awards. As our slogan says: "always dare, yield sometimes and never give up".
Africa Top Sports Challenge Ranking:
1.WADE Syndiely and Florence PHAM 188
2. Eva Devico and Chris MAYNE 195
3.THE BLIND Julia and Celine VERGIN 197