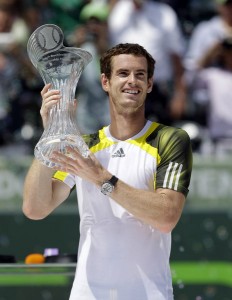 With over 3000 points ahead of his new dolphin, Novak Djokovic, stopped in the semifinals of the ATP of Miami remains strong leading men's world tennis rankings.
Winner of the 1000 Miami Masters, Andy Murray removes Roger Federer from the second place in the ATP rankings.
The Swiss absent from the Florida tournament dwindled to the third step of the podium.
Rafael Nadal also ignores the 1000 Masters, after his coronation in Indian Wells, ranked 4th to his compatriot David Ferrer, beaten finalists in Miami.
The highlight of this classification still dominated by Novak Djokovic, is the absence of Federer and Nadal in the Top 2. That has not been seen since November 10, 2003!
Jo-Wilfried Tsonga, the world eighth, remains the French tennis No. 1 with 430 points to Richard Gasquet, a semifinalist in Miami who climbed a row (9th).
No change to Kevin Anderson, the South African, eliminated at the third round by Key Biscayne, retains his 29th place worldwide. The African number 2, the Tunisian Malek Jasiri  climbed five rows and ranks 158th in the ATP.