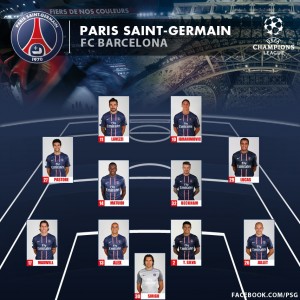 Big surprise tonight at the announcement of the starting eleven players of PSG against Barcelona in the quarterfinals of the C1.
The Englishman David Beckham holds, relegating Marco Veratti on the bench.
Apart from that, a 4-4-2 concocted by Ancelotti with the striking pair Zlatan Ibrahimovic-Ezekiel Lavezzi.
At the side Barcelona, all the injured are back and Alba and Xavi hold. Mascherano replaces Puyol injured alongside Pique.
Alexis Sanchez also starts the game.
PSG: Sirigu; Jallet, Alex, Thiago Silva, Maxwell Beckham, Matuidi, Lucas Moura, Pastore, Lavezzi and Ibrahimovic
Barcelona: Valdes, Alves, Mascherano, Pique, Alba, Busquets, Iniesta, Xavi, Villa, Messi, Alexis