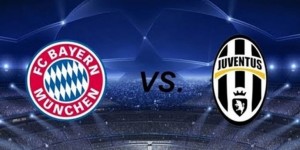 To believe the web and the international press, one would think that there is only this meeting between PSG and FC Barcelona. And yet another poster has nothing to envy to the duel between the French and Spaniards.
The match between Bavarians and Turin weighs 6 Champions Leagues. 4 for Bayern Munich and Juventus 2. And from this season, both teams are on a cloud. Unless a cataclysm, the national title should not escape them. Both clubs have also struck two blows this weekend in their respective championships. A scathing 9-2 of Bayern against Hamburg and a valuable 2-1 win of the Old Lady over Inter Milan.
Some benchmarks
Returning to this poster in C1, the Munich give away all to join their glorious predecessors in 1974, 1975, 1976 and 2001. While the Juve have passed the most quarters since 2006 and an elimination by Arsenal. The two teams met six times since October 2004, each time in the group stage. Juventus leads 3 wins to 2 but Bayern emerged victorious in the last double confrontation with already Ribery, Lahm, Schweinsteiger and Müller.
Players to watch
undoubtedly, the offensive quartet Ribery-Kroos- Müller – Mandzukic can punish an undefeated opponent for 18 matches in Europe.
On the other hand, the star remains an old acquaintance. No pun intended, Pirlo with 33 years old but still has youthful legs. Some shoots such as Marchisio, Vidal among others can also hurt. The African wink of this meeting, the Ghanaian, Asamoah Kwadzo.