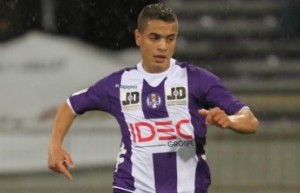 What plays Wissam Ben Yedder?
While the Tunisian sports public wants to see him under the tunic of his country of origin, the striker of Toulouse in Ligue 1 of France is still wants to be called upon.
Sunday, Africa Top Sports relayed an information published by Global Net that he would have said yes to Nabil Maaloul who began a European tour to try to convince some binational players to wear the tunic of the Tunisian national team.
Always according to the same source on Monday, the player still prefers to wait for the Blues! Suspended until October 1st of all French selections due to night out with the Hopes in last October, Yedder was not convinced by the coach, Maaloul.
Sami Trabelsi had also failed in his attempt to bring the player to the African Cup of Nations in South Africa.
Yedder had in any case already refused the selection of the Carthage Eagles and showed his desire to continue with the Blues.