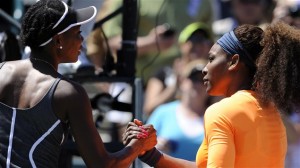 Serena Williams will defend her title at Charleston.
The seeded No. 1 defeated in the semifinals her elder sister Venus Williams (seeded No. 5) in straight sets, 6/1, 6/2, in less than an hour (53 minutes).
The World No. 1 on the WTA tour will make an attempt to keep the Family Circle Cup in the final of the Charleston green clay against the World No. 18 Jelena Jankovic on Sunday.
the Serbian seeded No. 9, has painfully dominated in the other semi-final the Swiss, Stefanie Voegele (63th in the WTA) in three sets, 6/4, 6/7, 6/2 2:07.