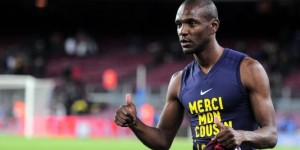 He did it! One year after undergoing a liver transplant, Éric Abidal replayed Saturday night against Mallorca (5-0). He came in at the 70th minute of the game! A return to the highest level amazing!
The Frenchman confided to l'Equipe, and he paid tribute to his cousin who saved his life with physicians.
"It will be a year on Wednesday. It was long, I really struggled. I also received a lot of support during this year; this is the most important thing. From my wife, my parents, my friends, cousins, etc… Fans and all fans of Barça too. Without them, I would not have taken over the football. My goal was to return. Today, it is done and I try to see a little beyond. But it's always the coach who decides.
I was wearing under my jersey T-shirt with the inscription: "Merci mon cousin! La 13"("Thank you my cousin! The 13 "). I'm lucky to be on camera and speak. But he was at home … Without him; it would have been completely different. He deserves more applause than me. The" 13" is how people call him in his area, so that's that; I hope he will be happy. I'm going to sign it and send him.
I hope to be part of the group until the end of the season. "