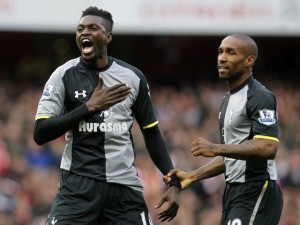 The Spurs of Tottenham will be without the services of William Gallas for the reception of Everton on Sunday at the 32nd day of the English Premier League.
The Frenchman who left his teammates after an injury during the meeting of the quarter finals against Bale will be sidelined for two weeks. The former Arsenal defender is exempt for the match against Everton.
However, the coach Villas Boas can count on Emmanuel Adebayor, who scored against Bale last Thursday for this game. In the absence of Gareth Bale also injured, the Hawks captain will be the leader of the Spurs attack.
It is also the only striker up front in the absence of Germain Defoe and Lennon Laaron also out.
Tottenham (57 points and 3rd) must win get away from Arsenal (56 points and fifth) winner this Saturday on West Bromwich (2-1) and Chelsea (56 points and 5th) that receives Sunderland on Sunday.
Here is the composition of Tottenham that will face Everton
Lloris, Walker, Caulker, Dawson, Vertonghen, Parker, Dembele, Sigurdsson, Holtby, Dempsey and Adebayor