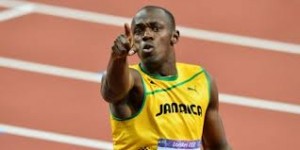 Certainly, Usain Bolt is a lover of football. The six-time Olympic champion follows all European champions. After his expressed support to Rennes by wearing the jersey of the French club in a video, the Jamaican champion proved to be fan of the club of Bayern Munich, champion Saturday in the Bundesliga six days to the end of the championship. The sprinter has sent a congratulatory message to the Bavarian club.
"I would like to congratulate Basti (Schweinsteiger) and the team as well as the coach who did a great job. It is extraordinary to secure the title with such an advance and as fast, "said Bolt, an admirer of Schweinsteiger," the boss in the middle, the engine of the team where Müller, Kroos and Ribery are still dangerous. "
After the elimination of Manchester United, his favorite club in the eighth finals of the Champions League, Usain Bolt believes that Bayern Munich has "a good chance even if  Real seems very strong right now."
With Schweinsteiger who scored the only goal against Eintract Frankfurt, Bayern celebrated its 23rd title. Bavarian players will enjoy this!