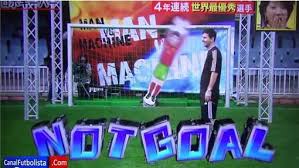 During one of his trips to Argentina, Lionel Messi has been tested against a penalty machine. An apparatus that detects motion.
The fourfold Golden Ball was surprised to miss his attempt against the robot. It took three tries to the star of FC Barcelona before beating the mechanic goalkeeper
The competitor was pleased to finally beat the machine on his third attempt.
Here is a video:
http://www.youtube.com/watch?feature=player_embedded&v=4oY87c1qYiU