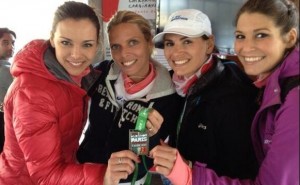 As Africa Top Sports.com reported yesterday, Africans shone in the Paris marathon.
The Kenyan, Peter Some has been very easily imperative. Among the women, the Ethiopian woman Tadese Boru broke the record for the event.
But we also retain the feat of four former Miss France who ran the marathon in relay to raise money for Sponsorship for the Cardiac Surgery.
Marine Lorphelin, Miss France 2012 took the start and ran the first nine kilometers in 51 minutes. Laetitia Bléger (Miss France 2004) then took over. Laury Thilleman made also a great race. And Sylvie Tellier, director of the Miss France committee ran the end.
The Miss held their bet by running the 42.195 kilometers in 3 hours and 58 minutes!
"We did it! In relay but it is a good start! The four medals next year! "