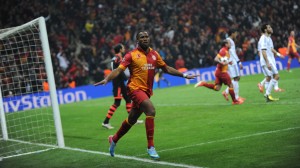 Galatasaray gave everything Tuesday against Real Madrid in the Champions League. But the Turkish club was eliminated despite a 3-2 win.
Just like Didier Drogba, author of a wonderful third goal, players of Galatasaray have thrilled their fans.
The Ivorian striker will not defend his title of European champion won last year with Chelsea. But he exit again to the deserved cheers particularly for his goal.
To the fight with Varane, Drogba succeeded a Madjer to fool Lopez. Review the action:
[youtube]http://www.dailymotion.com/video/xyvhyj_gal-3-1-rma_sport#.UWSU0ZPlOz5[/youtube]
And the goal of the 2-1 for Wesley Sneijder:
[youtube]http://www.dailymotion.com/video/xyvhx2_gal-2-1-rma_sport#from=embediframe[/youtube]