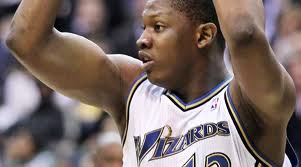 Jokim Noah, unavailable because of his plantar fasciitis is not sure to join France for Euro in September; Vincent Collet will also need to handle the case of Kevin Seraphin. The Inside the Wizards wants to work on his game this summer, and in an interview with Sport24, he says it could also be stalemate.
"This year? It will be more complicated. Already, I'm not sure to go in the France team. Because this season, especially this summer, I really want to work on some points and move everywhere individually. I'm not saying that in France team I will not move. But then I really need to work a lot, and my team also wants me to stay here this summer. So for now I'm not sure to go, I am waiting. "
It's what he said to Vincent Collet when he went to see him recently, but Wizards Seraphin understand he have to stay.
"They really do not tell you stuff, but make you understand. they tell you … [pause] But I also know that I am in a situation where … This year I have an extension contract that comes, after I have my contract to negotiate. And I'm in the projects. The next year, there is the play-offs. They really want us to do the play-offs and they really want to work with me this summer. "