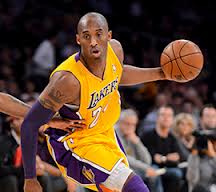 "Vino" was huge in scoring when LA Lakers moved to Portland. The Blazers, still without Batum, bowed 106-113.
Soon in his 35, Kobe Bryant continues to impress on the court in the NBA. After releasing a great game for taming Honerts, Black Mamba did it again against Portland and his rookies with long teeth (four on the tartan), including Damian Lillard author of 38 points and 9 assists.
But the winner of leaders contests of the last All-Star could not stop. Kobe determined not to release the eighth place without any give. The back Californian played all the minutes of the match and blackened his stat sheet with 47 points (14/27 shooting, 18/18 free throw), 8 rebounds, 5 assists, 3 steals, 4 blocked shots.
Pau Gasol (23 points on 11/15, 9 rebounds) and Dwight Howard (20 points to 9/11, 10 rebounds) also made key to compost their 42nd victory of the regular season the Lakers.