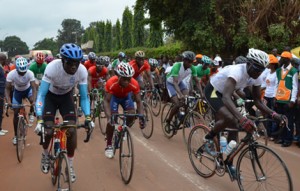 The first pedal stroke of the 2013 cycling Tour of Ivory Coast will be given on September 27, near the Basilica "Notre Dame de la Paix". But already the organizing committee is working for the success of the event.
After delivering the provisional budget estimated to 230 million, the organizing committee headed by the President of the Ivorian Federation of cycling, Alla Kouamé, revealed the weekend the stopover cities. 14 cities for a total of 1079 km will be to the test of the platoon.
The prologue will take place in the political capital Yamoussoukro, on September 27 and the arrival is scheduled on October 6 in the economic capital Abidjan.
Stopover cities
September 27, 2013: Yamoussoukro (prologue)
September 28: Bouaflé-Daloa
September 29: Zoukougbeu-Man
September 30: Touba Odienné
October 1: rest Boundiali
October 2: Boundiali Ferkessédougou
OCTOBER 03: Korhogo-Katiola
October 4: Bamoro-Bouaké
October 5: Bouaké Daoukro
October 6: Adzopé-Abidjan