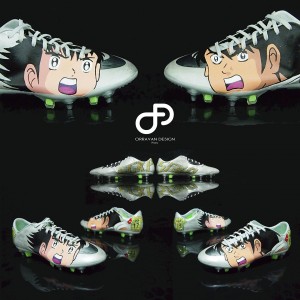 Football players reveal increasingly hidden children in them.
Every day know a little more about cartoons or comics or the heroes who inspired their childhood.
Monday, Sergio Aguero showed his shin pads with the effigy of the hero of the cartoon Olive and Tom.
This time, this is the Togolese Serge Gakpé that for his new shoes, asked the company Orravan Design special pumps.
Can be admired on shoes, Captain Tsubasa, hero of the series Olive and Tom. Gakpé must be a big fan too.
His lucky numbers (17 in selection and 13 in club) are on the heels with yellow jerseys, color of Togo and Nantes FC Atlantic.
Only remains to wish that his new shoes allow him to score more goals.