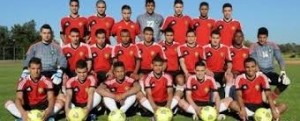 Morocco has successfully entered into the competition by dominating Gabon on a score of 4-1 in the Group A of the Africa Cup of Nations Cadets.
Goals: (9 ', 11' Sakhi Hamza, 56 'Younes Bnou Marzouk, 90' Nabil Jaadi – 61 'MacLeod Tsimba Eyamba (pen).
The Atlas Cubs have confirmed their dominance of the first half (2-0) on a double Sakhi 9th and 11th minutes.
The second match of the group will oppose Tunisia to Botswana from 18 hours.