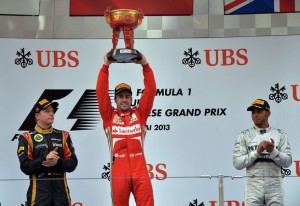 Victim of discomfort before the practice session, Lewis Hamilton, however, has not been absent on the Shanghai circuit for the third Grand Prix of the Formula 1 season.
The British Mercedes driver finished the race in third place behind the Ferrari of Fernando Alonso (1st) and Lotus Kimi Raikkonen on Sunday.
"I'm very happy with today's result. This is a very good result for the team. I am very pleased with these points. The team did a fantastic job; unfortunately we did not have the pace of the two Ferrari … But I'm still very lucky to be on the podium, "said Hamilton after the competition.
In the overall driving classing, the world champion Sebastian Vettel (4th GP this China) keeps the leading position in front of the winner. Lewis Hamilton is fourth.