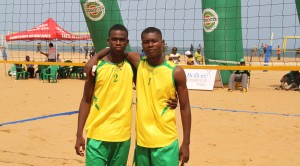 Housed in group B, alongside Nigeria and Ghana, Togo has qualified for the final playoff to the World Cup of Beach Volleyball for the less than 21 years of age.
Togolese representatives, Agbegnikou Antoine and Apezoumon Florent got rid of their Tunisian counterparts in the semi-finals by 2 sets to 1. Togo is facing Nigeria in the final of the competition.
But beforehand, the Togolese as well as the Nigerians have already qualified for the World Cup of the discipline which will take place in Poland in July. According to the regulations, the three best teams, both on the side of men and that of women will represent Africa at the continental meeting.
Launched yesterday, the competition whose kick-off was given by the Minister of Sport and Recreation, Alain Lobognon ends this Sunday with both finals.
This is the second time that the Togolese team qualifies for the World Cup in their class. However, Agbegnikou and Apezoumon could not compete in the global competition to be held in Canada last year. The embassy had denied to them the visa.