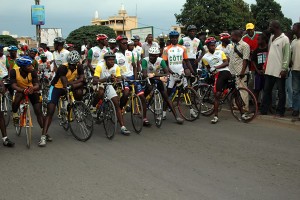 Africa Top Sports has learned this Monday morning the difficulties of the peloton of the cycling tour of Togo to move to Atakpamé city, the destination of the second stage of the competition.
An uprising movement in the educational arena is actually shaking Togo for a few days. The closure of schools this Monday angered students who stormed all the arteries of the country to demand better working conditions for their teachers.
The cycling tour which began on Sunday and is in its second phase today had all the trouble in the world to proceed normally. In Tsévié, cyclists had to observe a pause. Due to the flooding of the road by the students growls. Some riders frightened, had to leave their bikes in search of refuge.
The first stage of this tour was won on Sunday by the Burkinabé Arouna Iboudo.
To be continued…