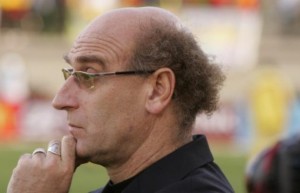 Patrice Neveu and coach, Ahmed Salem Ould Ahmedou nicknamed Talla bereaved the star turn from the 22 actors of the match the 17th day of the football championship of Tunisia that opposed ACS Ksar and FC Nouadhibou at Nouakchott Olympic Stadium. The two technicians were engaged in a spectacle in the Presidential tribune during the halftime of the game.
According to the witnesses who attended the quite funny scene, a group of people of whom Talla seated in the official tribune, fueled the anger of the French technician by insulting him (comparing him to the famous French actor Louis de Funès). What makes the Mourabitounes selector angry who has requested his counterpart to talk with him.
At a time of the discussion, the tension was rising very fast and the agitation was at its height. It took the intervention of the leaders of FFRIM, of the police and some spectators to separate the two protagonists.