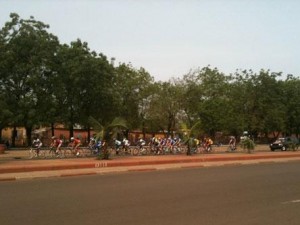 Arouna Ilboudo won the first stage of the cycling tour of Togo 2h 29 min 26s at a distance of 103 km or Lomé-Aneho-Lomé. The Burkinabe ahead of the Frenchman, Zamid Sébatien (2h 29 min 40 sec) and his compatriot Abdou Sokondo (2h 29min 48 sec).
A total of 57 riders from Togo, Benin, Ghana, Côte d'Ivoire, Burkina Faso and France are on the starting line. Announced, Nigeria and Niger have not made the trip.
This 22nd edition is far from knowing a real enthusiasm for cause, the promoter of the Tour, Francis Ducreux thinks of setting up a communication device which discourages journalists to convey information.
"Call me on the phone and I'll give you the top three, this is what you need. And even when BBC often calls me upon the tour, this is what they asked me. We do not need to take with us all the Togolese media for this tour. We already have Togo Presse, the national television and radio Lomé. That's enough", hammered the Frenchman.
The images of the Tour are absent. Journalists must rely on archival photos to illustrate their article unfortunately. This happens in Togo at the time of social networks and the internet! Interviewed by the RFI correspondent in Lomé on the budget, Ducreux, with a mischievous smile, swept with the backhand this question that comes up every year.
"Even in France, we never know the overall budget of the Tour de France"
No results before another tour!
This 22nd edition was shaken on Sunday in a total cacophony. Without trying to be the result of the 21th edition, government, sponsors and the governmental media embarked behind the peloton of the 2013 Tour.
Until then, the overall results of the 21th edition are not released while all the means were put at the disposal of the organizers for the success of the Tour.  Government that also invested is far from requesting accounts to the Togolese Federation of Cycling. Sponsors are also very happy to be behind the peloton without asking the mediatization of the event that happens every year in the land of our forefathers.