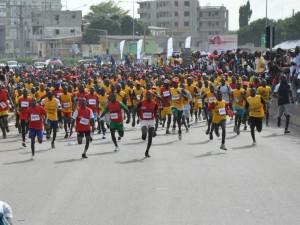 Raced last Sunday in the capital of Benin; the 21.1 km race was dominated in women category by the Beninese Yatchoko Kabirath in 1h31mn04s. She beats two other compatriots. Odette Ifonty (1h35mn07s) and Farathu Boukari (1h36mn24s) who arrive respectively in 2nd and 3rd place.
In the category of men, Ghana has delighted the two first places. Godwin Atsu Adukpo in 1h15mn02s forestalls Fripon Kpabina (1h15mn16s). The Beninese William Akowanou climbs on the podium with a time of 1h16mn37s.
7551 athletes of both sexes from 22 countries (14 African and 8 European) took part in this 5th edition.