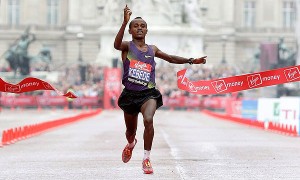 After thirty seconds of silence in memory of victims of the Boston Marathon, the 36 000 members in the London Marathon have embarked on the track of the English capital on Sunday.
In the men's draw, the Ethiopian Tsegaye Kebede got hoisted on the highest step of the podium after 2h06'03".
The winner of the 35th Chicago Marathon relegated to the second place the record holder (2011, 2h04'39") Emmanuel Mutai.
The Kenyan crossed the finish line in 30 seconds too. The podium was completed by Ayele Abshero, 2h 06'56".