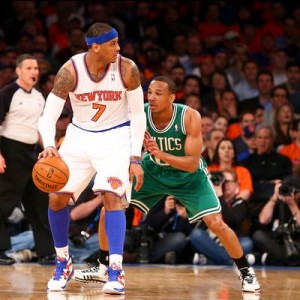 The momentum of the regular season, Carmelo Anthony led New York to victory in Game 1 of the series of the first round of the playoffs against Boston. The Knicks outscored the Celtics 85-78.
The leading scorer in the regular season has cracked 36 points, ending "logically" the top scorer of the meeting.
The night was beautiful for the New York Captain since he was voted player of the month of April in the Eastern Conference in the NBA. Melo turned to 36.9 pts and 9.9 rebounds on average.
New record holder for shots behind the arc in the regular season, Stephen Curry could not prevent the defeat of his franchise Golden State during the curtain of its series against Denver.
Evan Fournier (11pts) and his teammates of the Nuggets dominated the Warriors 97-95.
Stephen Curry has compiled 19 points (4/10 3pts) and 9 assists, next to the average (25.4 pts and 8.1 assists) which makes of him the best player of the month in the West.