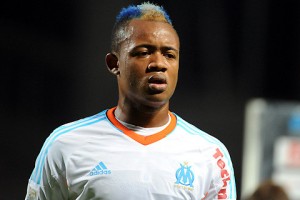 Olympique de Marseille took over the second place in the League 1 standings after its 32th match of the day on Saturday.
Thanks to a goal from Benoit Cheyrou (45 '+1), the men of Elie Baup composted their eleventh win in the league on the narrow score of 1-0.
Tenured on the side of the Marseille attack, Jordan Ayew in the image of his teammates on the offensive bastion lacked efficiency. The Ghanaian is back on this mixed match  "Today, it was a tough game. We had chances, the cons but we have poorly negotiated them. We have not been effective. 1-0 is enough. I had the feeling that we were having a correct match, I think they've been left a little too much space in midfield but we rectified that. (…) Brest plays back and it's more difficult, "said the cadet of André. But Jordan thinks that OM will present a different face at the 33rd day "in Lorient, it is not going to be the same game. Against combative teams, we get to play football. "
Jordan Ayew and his teammates would be well inspired by combining the good game with the observed realism.
Because even if the OM is a dynamic club that allows him to stay on the podium (dolphin PSG), his game is often criticized by analysts.