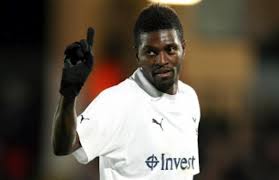 It took the release of Emmanuel Adebayor in the 70th to see Tottenham released against Manchester City at the 34th day of the English Premier League. The Hawks captain who was caught in the funnel of the defense Citizens had trouble moving on the lawn.
Little touches of the ball in this meeting, which was decisive for the qualification for the Champions League next season, the Spurs striker did not chance upon goals. The defensive system set up by his former coach, Roberto Mancini was to muzzle him with Zabalayeta by strict markings! Adebayor uninspired had difficulties to show up.
Feeling the heat, Villas Boas introduced Germain Defoe who pressed the defense of the Citizens and allowed the American Dempsey (75th) to restore parity (1-1) after the goal of the Franco-Algerian Samir Nasri (5th). Germain Defoe has found the flaw 4 minutes later before the reassuring goal of inescapable, Gareth Bale.
This victory widens the way to Manchester United to be crowned champion on Monday during the match that is pitting it to Aston Villa.
The fans screamed and sang in White Hart Lane, since they have been delighted with this victory of their club!